This blog was written by one of the guests on the Awaken the Creatrix Retreat Wendy Harbour, who was adamant she wasn't a writer. This beautiful piece of writing just proves that with the right support, encouragement, and environment we can all write. Thank you for your words of wisdom Wendy.
What is the Awaken the Creatrix Retreat like?
Growing up I thought retreats were for the rich and famous, or the yogi types, how wrong was I, they are for everyone and anyone, especially if you like spending time with nature and like-minded people. My conscious spiritual journey started in my early fifties, with a little bit of yoga and then gradually some shamanic healing. I believe the universe delivers energetic delights just at the right time.
One of these delights that recently came my way was a creative walking & writing retreat, which included Forest Bathing, organised by Claire Winter from creatrixjourney.com.
I grabbed the opportunity to join this retreat as a helper, after receiving a last-minute message in a WhatsApp group. The timing was perfect, just what I needed, some tranquillity with nature, while offering to be Girl Friday.
What is the retreat space like?
Hill Farm, near Tintern, located deep in the Welsh Wye Valley hosted the retreat, with its picturesque rolling hills, thick woodlands, and views of "The Abbey" in the distance. I felt so humble to be part of the itinerary awaiting the bloggers and book writers to arrive.
Writing is not my area of expertise; at work, I mostly produce customer reports, and hardly anything at home. Yet here I am compiling a journal for keepsake and to share. Claire definitely has the power of persuasion and the skills to encourage anyone to write. I found my words again and its very invigorating to use them at home and work.
Although there were many activities during the weekend, the Forest Bathing had the most lasting profound effect on my health mentally and physically.
Forest Bathing Experience
Tom the owner of Hill Farm has many talents, not only does he cook wonderful food, but he also has the expertise of Forest Bathing in his own woodlands, especially mushroom spotting.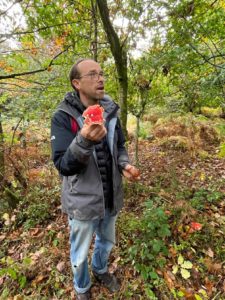 He explains this is a Japanese practice of relaxation known as shinrin yoku, a method of being calm and quiet amongst the woods, observing nature while walking slowly and breathing deeply.
Just two hours walking in the woods, is beneficial for anyone suffering high blood pressure, anxiety, depression, and many more aliments, lasting up to 30 days.
During breakfast we were asked not to bring mobile phones, advising we need to disconnect from the hectic world and connect with nature. No one objected, after all this is a getaway from our daily stressful lives.
Tom met us at the edge of the woodland, where he explained how the underground network of tree roots and mushrooms support each other, and over 2,000 shades of green could be seen for miles. He told us there will be some slow bare footed walking in silence, I started to get curiously excited.
We enter the woods through a gateway of holly bushes towards a small parting, I could see fallen trees, and the sunshine trying to peek through the branches above. For our first session, Tom provides us with some small mats to sit down and meditate for 10 minutes with our eyes open. He encourages us to use all our senses to scan the woods from all directions.
While taking in nature's chitter chatter of birds, spotting squirrels, smelling tree bark dampness, and watching leaves swirling round and round gently falling to the ground. I felt like I had arrived.
I remember thinking I must do this more often; this same thought revisited my mind many more times during the bathing.
Our next activity was to freely roam towards Hill Farm's main entrance, without taking any existing paths. So, through the dense woods, we made our own pathways, moving the prickly holly branches, stepping on uneven twigs and leaves, while trying to navigate to the agreed meeting point.
Regrouped Tom points to an ancient path, once walked by Pagans. It's time for us to take our boots and socks off, and he tells us this will increase antioxidants, which helps reduce inflammation and improves sleep.
Barefooted we immerse ourselves in the experience, walking in silence and slowly.
At home, I often go barefooted in the garden, so I was eager to give it a go, and I was not disappointed. Immediately my feet embraced the cool mud and smooth boulders, as we made our way up this historic path, it felt like a foot reflexology treatment, with many senses being tickled all at once.
Rejuvenated by the walk, I was completely absorbed by the natural beauty around me, like colourful mushrooms, deep green mossed walls supporting the path along the way, and sturdy tree's waiting to be cuddled.
Once at the top of the path, feet were rubbed down and footwear back on ready for our next adventure.
After a short walk, the woodlands became lighter with a softer footing, and a strong smell of pine needles.
Tom explained that during wartime, some of the woodland was damaged, so pine trees were planted, it was lovely to experience more smells and sounds different from the ancient woods. We stayed for another short meditation, this time with our eyes closed, we had to scan with our senses like a radar, far and near.
It was time to head back to Hill Farm for some lunch and reflection. To end the Forest Bathing, we played a fun game in pairs, we took turns to be a human camera starting with eyes shut, while the other person carefully directed you to a view, then momentarily they asked you to open and close your eyes like a camera shutter.
Since returning home, I have visited my local woods, to top up my Forest Bathing Tan and will make my visits regularly, after all, it's a free daily spa.
Our next retreat Awaken the Creatrix Retreat is July 6-9 at Hill Farm, you can found out more here.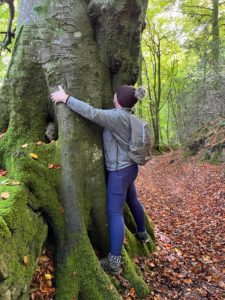 My tree hug was in memory of my dad who passed away nearly one year ago 7th November 2021, he loved nature.
Rest in Peace Dad, lots of love Winnie